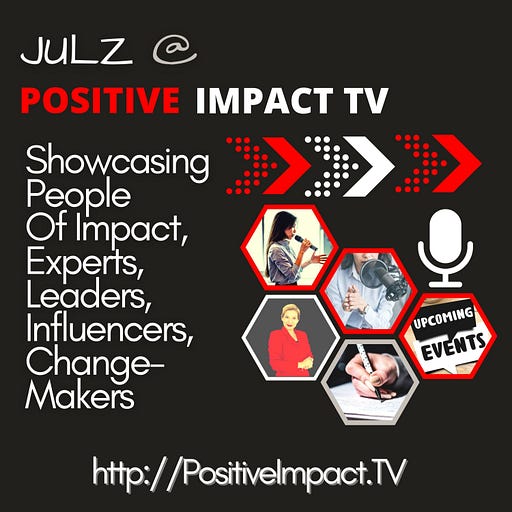 Mar 6 • 38M
📢Public Relations, Media, & Marketing Insights
HOW TO UTILIZE PR & MEDIA OUTLETS TO EXPLODE YOUR BUSINESS
PR Julz features experts and influencers, change-makers and leaders! This podcast is meant for only those who are driven to make a Positive Impact on the World. Business guests share strategies to grow influence. Apply https://pr.pitv.ca/main Website: http://DigitalPR.Works Free gift https://bit.ly/10podtips It's a Cheat Sheet with 10 strategies no one mentions when they bring you on as a guest. FB Group http://facebook.com/groups/pitvg Offer: Join our Visibility & PR HUB: Ace your publicity game! Bring in leads on repeat! Just ask us how!
📢PR-Julz (Social Media and Online PR expert) pairs up with a former News Director and PR expert, Stacia Crawford, for an episode full of golden nuggets you won't find anywhere else on the Internet. These are professional insights often contrary to the popular opinion, but straight from the mouth of a media gal. This is a debut of the series, so stay tuned for more, make sure to listen in LIVE, because very soon right after we go live, these will be moved to our membership area. If you're not yet a member of our engaging PR and Media FB group, make sure to join in while you still get all the education free of charge. http://facebook.com/groups/pitvg We lead with the "Pay it Forward" mentality, and we join in together to make a Positive Impact.
📢 Find the latest news and updates on http://PositiveImpact.TV and grab your visibility cheat sheet from http://prjulz.com so you can not just SHINE but SPARKLE every time you get in front of an audience, online, or offline!
📢If you'd like to STAND OUT from the rest of the members and highlight your work in our community, you can join as a VIP expert HERE. $47/month till the end of the quarter, and going up shortly after! We need more experts in Marketing, Mindset, Confidence, Joy & Abundance!
See you in the next episode. Share the gold with your network, everyone needs to know this stuff! Every time you share - you earn brownie points! :)